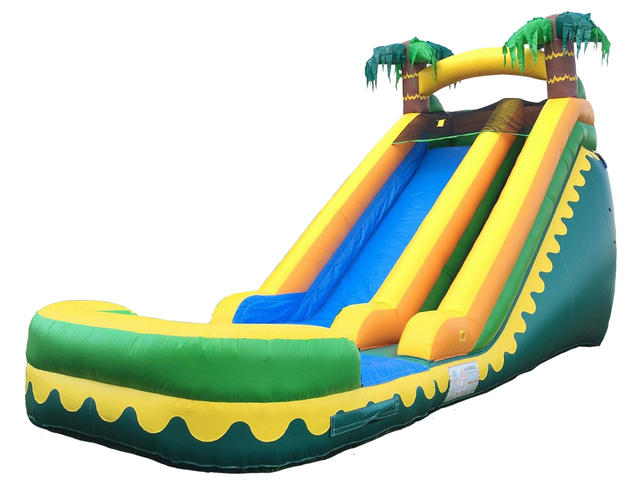 18ft Tropical Breeze Giant Slide (Dry)
Tropical Breeze Giant Slide (Dry) - $325.00
NEW UNIT
Size: L29'6" x W10'6" x H18'
Includes:
Landing Pads
Requires:
Hose Hookup and Electrical Outlet
Occupancy: 2 riders maximum at one time
Recommended age: 2-70 years
Deposit: $50 with Credit Card
Balance:
Cash due at Delivery
Set-ups are done in the morning before your event begins. We will call you the night before to confirm a delivery time. Pick-ups happen after the completion of your event. For free delivery info please see our Delivery Page.
The GIANT Tropical Breeze Slide is great for all ages and party types. Surprise your guests at weddings, fundraisers, birthdays, family reunions, etc. Journey atop the tropical destination and have a blast at your next event dropping to the bottom ofthe Tropics. Pass the summer day away with this awesome inflatable slide that the whole family will love. Rent a giant slide today in Maine with Sharper Events & Party Rentals. Also available with a 26 foot Tropical Coconut Run Slip and Slide when rented wet.