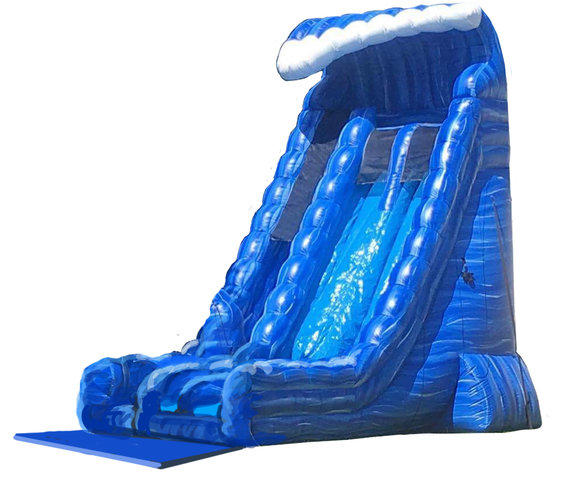 27ft Blue Crush Double Lane Gigantic Slide (Dry)
Actual Size: L65' x W20' x H27'
Requires: 1 Outlet
Occupancy: 2 riders per time
Recommended Age: 6 and up
Deposit and Balance: 40% Deposit on CC/ Balance due at delivery
Includes: Landing Pads




27ft GIANT Blue Crush Double Lane Slide (Dry)- $650.00

CHECK OUT THESE SPECIFICATIONS: WOW!!
Size: L65' x W20' x H27' (That's 27ft of 2 people racing on a drop like no other!)
Includes: Giant Double Lane Slide, Landing Pads
Features: 2 lanes
Occupancy: 1-2 riders at a time
Requires: Electrical Outlet
Recommended age: 4-100 years
Deposit: 40% with Credit Card
Balance: Cash due at Delivery
Introducing our best inflatable rental yet: It's our new favorite and it's HUGE. Giant and the tallest inflatable Slide in New England! This GIGANTIC Ocean Wave themed Blue Crush inflatable Slide unit comes with a double lane slide and HUGE drop! With the new Blue Crush Waterslide, it's kind of amazing for the littlest riders and the biggest thrill seakers. The biggest baddest and tallest inflatable slide for rent in Maine and New Hampshire! You have to see to believe...