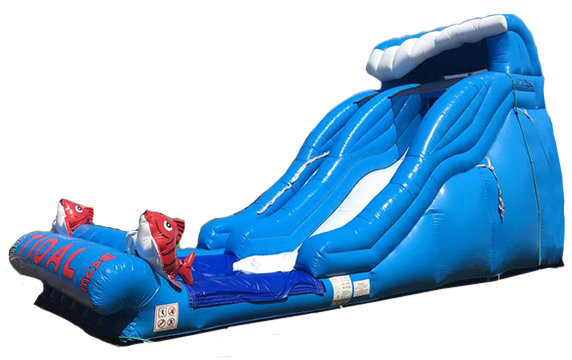 18ft Tidal Wave Water Slide
The Tidal Wave 18ft Water Slide (Wet)- $350.00
NEW UNIT
Size: L35' x W14' x H18'
Includes:
Splash Run-out, Double Bumps built into slide!
Requirements:
1 Outlet, Hose to H2O source
Occupancy: 1 Rider at a time
Recommended age: 2-72 years
Deposit: $50 with Credit Card
Balance:
Cash due at Delivery
Set-ups are done in the morning before your event begins. We will call you the night before to confirm a delivery time. Pick-ups happen after the completion of your event. For free delivery info please see our Delivery Page.
The Tidal Wave is headed for shore! Ride this water slide all day long as the hot Summer Sun soaks the land. Riders will love the bumps built into this slide as they careen down the inflatable over and over... Splashing at the bottom and getting everyone wet! The Tidal Wave is one of our new slides and it's one of the most fun. Sharper Events & Party Rentals delivers summer fun with the Tidal Wave Water Slide full service, delivery, setup, and removal.